Make psycopg2 and readline work in Snow Leopard... →
Upgrading to Apple 64-bit OS Snow Leopard, I found that have to re-configure my development environment. After bunch of google and try, finally I make postgresql, psycopg2 and (apple) python…
Replace Hard Drive for My Laptop →
Follows the good guideline "How to clone Mac OS X to a new hard drive", I used SuperDuper to copy all data to the new hard drive then switch to it without a boot-able system DVD. It takes longer…
cocos2d for iPhone v0.7 released →
Download: http://cocos2d-iphone.googlecode.com/files/cocos2d-iphone-0.7.tar.gz New features since v0.6.3: Effects (AKA mesh effects, AKA grid effects): cocos2d v0.7 let's you…
Identity crisis solved: iPod touch is a gaming... →
Friday, December 5, 2008 — 2:59 p.m. — on my couch The fine folks over at ars technica did something extremely cool. First they found an undocumented 2.2 feature that allows the video from the…
CSS Systems: Maintaining your style →
Natalie Downe gave a talk at BarCamp London on CSS Systems as a wait to maintain your style. She goes into details on how she goes about setting up her CSS on a project: A CSS System is a…
Upgrade T40 Laptop CPU →
Since my Santa give me a really good gift rather than a MacBook, I have to continue use my old laptop IBM T40 with 1.3G PM and 512MB memory. Then I decide to upgrade it. It's really hard to find a mobile cpu with a reasonable price two years ago, however you can easy find one today. I order a Dothan 755 with 90nm 2.0G 400MHZ(Spec SL7EL), in 6xx RMB (a new one is around 9xx I guess). T40...
Ubuntu 7.10 "gutsy" caveat: beware EVMS! →
A N I M O T O: the end of slideshows →
Download free Picasa Flash and HTML photo gallery... →
Open source performance testing tools →
How To Prevent Search Engines Like Google & MSN... →
Monoslideshow - The ultra customizable Flash®... →
Though I love opensource, but this one looks really nice.
Solutoire.com › Plotr →
JonDesign's (Javascript) SmoothGallery 2.0:... →
ModalBox — An easy way to create popups and... →
we can create a jquery version, of course.
〖好记性不如烂笔头〗-十大必备的 Thunderbird 扩展 (另外推荐 25个) [译] →
Editing Django templates with Emacs(very rough) →
Piotr Maliński: [news] Interesting stuff
pyffmpeg: Python API for ffmpeg that allows for example saving movie frames as images (making thumbs) showdown: is a Markdown implementation in JavaScript. It can be used as a live preview or as a base of Markdown WYSIWYG editor on your Django powered site :) stripegenerator.com: if you need some web 2.0 strips editArea: a JavaScript based code editor with code highlighting for PHP, CSS,...
Health: Schedule Your Me Time
All too often, taking time for ourselves is shoved to the back burner—and for the sake of your sanity, it really shouldn't be. Productivity blog Lifehack.org has an article that helps you figure out how to find time for yourself, from scheduling a monthly evening out to walking to work. Personally, I get time to myself by waking up extremely early, putting on a pair of headphones when...
Hack Attack: Supercharge your Gmail - Lifehacker →
Hack Attack: Maintain a Consistent Workspace... →
Geek to Live: Ten Must-Have Bookmarklets -... →
Goals: Define Your Version of Success
You can't get where you're going if you don't know where it is you're headed, right? Financial site Wise Bread has written up an insightful article that helps you define your version of success via a list-making exercise. Most of us go from day to day just getting through what needs to be done; however, once in a while, it's extremely healthy to figure out a few...
Featured Linux Download: Browse the Web Without...
Linux only: Run a browser directly from RAM with open source "app" ioSwiftFox. ioSwiftFox requires absolutely no installation and doesn't even require root privileges to run for the first time. ioSwiftFox is a simple script that after some chmod foo you can use to browse the web. It runs faster than Firefox and even works with your existing Firefox extensions! If you want to...
PostgreSQL 8.3 Features To Be Available After...
PostgreSQL 8.3 Features To Be Available After Labor Day Full text search and other features will become available for free download in beta code after Labor Day; with the final release to follow by 8-10 weeks.  more Update your feed preferences powered by SimpleFeed ...
How To: Design a Memorable Business Card
Business cards convey a lot of information about you, so using a good design can leave an excellent first impression. If you're starting out and need ideas for your business card design, the Quick Sprout blog recommends that you emphasize on color, paper, uniqueness, typography and feel of your card. After all, you want to have something that describes you in a memorable way. When you leave...
Listings and Directory - City Weekend Guide →
Cityweekend redesign version is online. Join us?
An XP Team Room →
Lifehacker Top 10: Top 10 Gnome Desktop Tweaks -... →
Video Demonstration: Make an emergency light... →
How To: Deal With Post-Lunch Sleepiness -... →
Screenshot Tour: Show Us Your Go Bag, Part 2 -... →
DIY: Budget Bathroom Spa
Get some much needed relaxation by turning your bathroom into a spa - no major financial outlay required. Budget blog Wise Bread has made a list of bathroom-into-spa ideas that granted, won't turn your bathroom into the MGM Grand, but they'll definitely make it a place you'll want to visit more often. Pedicure supplies, special shower heads, color schemes - all of this and more...
It's All Text! :: Firefox Add-ons →
Edit textareas using an external editor, because it's all text! Right click on a textarea, select "It's All Text!" and edit the text in the editor of your choice. Alternatively, click on the edit buttons added for your convenience. Right click on the edit buttons for even more options, including preferences.
On having layout — the concept of hasLayout in... →
All about IE, you should read it.
Clearing a float container without source markup →
"Clearing", 21st Century Style
Empty Thoughts: Display the SQL Django ORM is... →
Enable WPA Wireless access point in Ubuntu Linux... →
Quite strange, my network-manager can recognize my wireless card today. :-)
Django Typeset Tag →
Dynamic text rendering with TRUETYPE fonts. very funny.
WifiDocs/WPAHowTo - Community Ubuntu Documentation →
I still can't make my Atheros 5212 card work with Network manager gnome, Not sure is a madwifi driver issue or the network manager issue. Follow this article I could access to WPA ap manually. but each time I have to change the conf file to switch the AP. It's quite strange that WPA_supplicant worked, however the wpa_gui still report can't find wpa_supplicant process.  Still find...
UnicodeBranch - Porting Applications →
Django | Unicode data in Django | Django... →
Interview with Leah Culver: The Making of Pownce →
Webapps scalability →
Gute Werbung →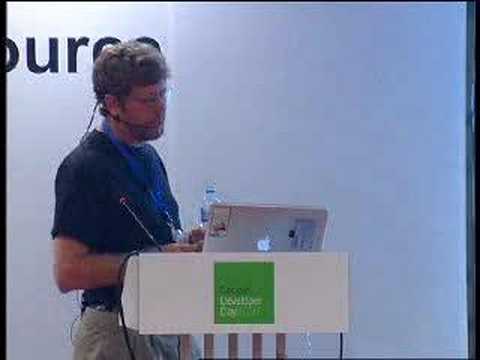 Google Developer Day 2007 snapshot
China joins the Google worldwide developer day, that's good. I has participated in the big party today. Though the rainy weather is cold, in the spot it's really hot. Google show it's great influence in china. There're 2 workshops, 9 speakers, and almost 500 developers here, sometime I even think need more O2. I choose the workshop B the one talk about open source. I saw...
Somebody intro me tumblr...
I just visit the tumblr homepage, but not understand the site very well, it's a small traveling. Favo